Meadowview Alpaca Farm and Fibre Studio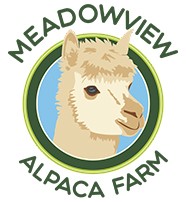 Terri & Pat Veerman
E: info@meadowviewalpacafarm.com
MeadowViewAlpacaFarm.com | Facebook | Instagram
Located in Bruce Mines, we are the new owners, bought the business in Oct 2021, and have been enjoying selling at the market since.
We sell quality alpaca products to keep you warm from head to toe! Socks, hats, shawls and ponchos are all lovingly made by local talented artisans. Interested in making your own project? In addition to natural coloured yarns we hand dye yarns right on the farm. We also make felted rugs and wall hangings and our newest product is our alpaca nesting bird material in cages or wicker balls.
In October of 2021 the Veermans decided to take the leap, leave Southern Ontario, and become parents to almost 100 alpacas. Their two daughters, Jayda (14) and Gabby (11), dove right into farm life and love getting to know each alpaca's unique personality. One of their favourite times of the day is feeding them in the morning. So nice to be greeted each day by the hums of these gentle creatures.